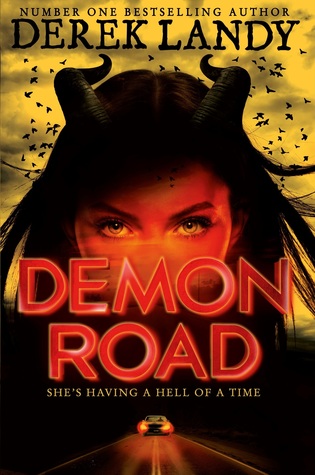 Demon Road by Derek Landy
Published: August 2015 by HarperCollins
Genres: Fantasy, Paranormal
Format: Paperback
Series: Demon Road
---
Amazon | Book Depository | Dymocks | Booktopia | Kinokuniya
Full of Landy's trademark wit, action and razor sharp dialogue, DEMON ROAD kicks off with a shocking opener and never lets up the pace in an epic road-trip across the supernatural landscape of America. Killer cars, vampires, undead serial killers: they're all here. And the demons? Well, that's where Amber comes in…Sixteen years old, smart and spirited, she's just a normal American teenager until the lies are torn away and the demons reveal themselves.
Forced to go on the run, she hurtles from one threat to another, revealing a tapestry of terror woven into the very fabric of her life. Her only chance rests with her fellow travellers, who are not at all what they appear to be…
Demon Road follows a sixteen-year-old girl named 'Amber'. Shy, unsocial, insecure and prefers to talk to her online friends to avoid her parents and their weird friends. One night, after an incident with two of her customers, she discovers something about herself, that she is a demon. Now we get to follow her through this road trip along America, making friends face-to-face, trying to escape her homicidal parents.
My first Derek Landy novel and I absolutely enjoyed reading this. It was fast paced, unique and it contained action packed scenes, humour that helps through the heavy dialogue, horror and supernatural aspects. It did not disappoint me. Amber isn't our average heroine. She's not skinny and popular and social. She's the opposite of all those. Though her demonic side contrasts her. She becomes strong, tough and sometimes sassy. She proves to everyone that she isn't the damsel in distress, that she doesn't need rescuing . Also being able to turn into a demon is pretty awesome.
There are only two things that I will complain about. One is the cover, I personally thought that the cover for the uncorrected proof was better. There's something about humans being on covers that just makes me cringe, especially with her eyes staring at you. The second thing is that I felt as though the book was longer than it should have been, a few unnecessary details and some scenes went on for a while.
Apart from those two things, I loved this book. It had very strong moments that just made me hold onto it, making me want to keep reading because I had to know what happens next. It's take on demons is very supernatural and mythical, the horns and the red skin, it didn't swerve away too far from the legends.
Anyone who loves the TV series Supernatural would love this book. It has a lot of similar ideas to it, demons, road trips, an awesome car.
Thank you to HarperCollins Aus for providing me with a review copy. Demon Road goes on sale 28th August 2015.